Thermal Imaging Riflescope Talion XQ38 AVAIBLE Pulsar
The brand-new Pulsar Talion XQ38 is an innovative, compact thermal imaging scope with an eclectic range of impressive features, including a highly sensitive 384x288, 17 µm <40 mK NETD thermal imaging sensor for stunning clarity at up to 1350m.

Powered by an interchangeable and rechargeable Pulsar APS5 battery, the Talion XQ38 provides up to 9 hours of operation time after just a single charge (depending on temperature). The embossed battery cover design helps the user to accurately identify the correct battery position, meaning removing and replacing the battery is quick and easy, even in complete darkness. The rapid extraction lock will also ensure a fast and seamless battery removal and replacement. Releasing this lock will open and raise the Talion XQ38's battery cover, which is located on the top of the scope's housing.

At only 700g, this innovative new thermal imaging scope is incredibly lightweight, however, due to its rugged magnesium alloy housing, the Talion XQ38 still retains a robust build that can take on even the harshest conditions. This magnesium alloy housing also serves as a heat sink, extracting the warmth generated by the device ' s inner electronics.
To add to its durability, this compact device is also IPX7 waterproof, withstanding heavy rain and high humidity. It can even withstand immersion in 1m of water for up to half an hour. High calibre weapons are also no problem, as this scope is high recoil resistant, meaning it can be used with high calibre hunting rifles (9.3x64, .30-06, .300, .375H&H, etc.), as well as smooth-bore and pneumatic weapons.

Focus adjustment has been made simple thanks to the integrated fin lever. Designed to match the protruding ridge on the Talion XQ38's housing when focusing has reached the 70m mark (nigh-time shooting distance), this will allow for quick and correct focusing, without needing to look down the scope.

Locating the controls on the Talion XQ38 has been made effortless, as they have all been placed on the top panel of the eyepiece to simplify access as much as possible for users regardless of whether they are left or right-handed.

The Talion XQ38 allows the user to choose between three signal amplification levels. This, combined with Pulsar's new filtration algorithms with fine brightness and contrast adjustments, will help to better define a target's features, as well as providing an incredibly clear rendering of objects and backgrounds in the field of view.

The Talion XQ38 offers 5 shooting profiles for a variety of weapon or cartridge types. Each profile can store up to 10 zeroing distances, offering up to 50 zeroing distances overall. There is also a selection of 10 electronic reticle configurations and functions (direct shot type, ballistic, scalable, and regular) in 9 colour modes.

Picture in Picture (PiP) mode uses 10% of the Talion XQ38's display, allowing the user to observe an HD zeroing frame. This mode will display a magnified image of the target and reticle, whilst simultaneously retaining visual control over the entire field of view.

Capture all those once-in-a-lifetime moments thanks to built-in video and still image recording capabilities. This, combined with the built-in WiFi module and Stream Vision 2 connectivity, will allow the user to view and share memorable moments easily.

Connecting the Talion XQ38 to the Stream Vision 2 mobile app will open up a plethora of features and functionalities. Use your mobile phone or tablet as a second screen, gain remote control of digital functions, view and share videos and still images, remotely install all the latest firmware updates, and much more with Stream Vision 2, available for Apple and Android devices on the Apple AppStore and the Google Play Store respectively. 
Features
Highly sensitive 384x288, 17 µm <40 mK NETD thermal imaging sensor
Long detection range of up to 1.8m tall object up to 1350m
F38 F/1.2 objective lens
Variable digital magnification from 2.5-10 (x4 zoom)
8 colour palettes
Up to 9 hours battery life on a single charge (depending on temperature)
Picture in Picture (PiP) mode
Built-in video and still image recorder
Stream Vision 2 compatible
Built-in WiFi module
High calibre recoil resistant (9.3x64, .30-06, .300, .375H&H, etc.)
5 zeroing profiles
10 electronic reticle configurations in 9 colour modes (inc. 3 scalable reticles)
IPX7 waterproof
Specification
Frame Rate: 50Hz
Microbolometer Resolution: 384x288 17µm
Display: AMOLED
Display Resolution: 1024x768
Magnification: 2.5 - 10x
Digital Zoom: 4x
Objective Lens: F38/1.2
Field of View: 17.1º
Built-in Memory: 16GB
Range of Detection: 1350m
Battery: APS5 Li-ion rechargeable battery
Runtime: 9 hrs
Dimensions: 330x57x67mm
Warranty
This comes with a 3 year warranty from Pulsar. See the User Manual that comes with the Pulsar Talion XQ38.
Shop the vast selection of the top firearms manufacturers in our online shop specialized in
accessories and spare parts for hunting and target shooting
.
Choose the most suitable
Pulsar
products in the catalog according to your needs.
Free shipping to Italy on orders over €100
. Armeria Brignoli accepts payments by credit card.
For any further questions, please
contact us
.
You might also like it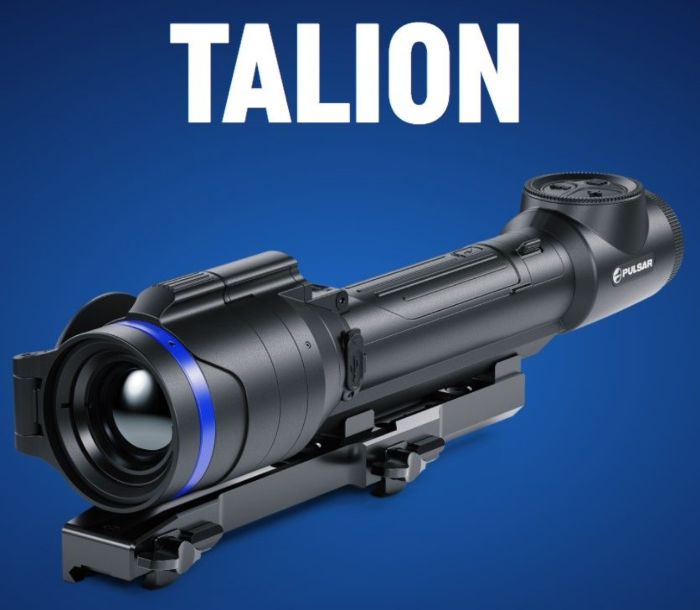 *Purely indicative images