OPTICS STEINER RANGER Steiner
Steiner Ranger
Our Ranger riflescope series delivers a short construction with a wide field of view. These riflescopes deliver High-Contrast-Optics and are superbly capable in low light by a light transmission of more than 90%. Their lightweight, shockproof and appealing design give you the most for your money and will always deliver unfailing performance whatever firearm or target you prefer. The proven 4x zoom range lets hunters around the world pair their new scope with their favourite rifle. Ranger 3-12x56 is a powerful all-round riflescope for high seat and still hunting. Light weight with 705 g and large field of view. By high light transmission a perfect companion for hunting at night. Precise illumination adjustment delivers perfect performance in daylight into nighttime. Riflescope for all kinds of rifles. Compact versatility for virtually any rifle, plus an optical performance to pick our prey from any environment.
PRODUCT FEATURES
•STEINER High-Contrast-Optics provides bright, brillant views, clear images, edge-to-edge sharpness and delivers also an excellent resolution of detail.
•XL field of view and a safe eye distance of 9 cm for the utmost overview and saftey in any situation.
•Intuitive reticle illumination on the center tube provides maximum grip. Small, easy-to-use rotating knobs offer 6 nighttime and 5 daytime settings and an OFF position between each step. The battery compartment is integrated in the knob.
•Reliable mechanics provide accurate repetition and exact clicks.
•Precise diopter setting and non-slip, rubberized power ring.
•Extreme Ruggedness by highly resistant materials and precise, reliable construction give the riflescopes extreme shooting stability. Water Pressure Proofness up to 2 m even without cover caps on the turrets. Special sealing techniques make this possible. No dust, no dirt and no moisture can penetrate inside. Fogging or formation of condensation on the inside of the scope is completely eliminated by the STEINER Nitrogen-Pressure-Filling. Even temperature variations of -25 °C to +65 °C will not adversely affect the functionality and all moving parts can be operated.
•Elegant, lightweight and sleek design: one-piece tubes with matte, scratchproof hard anodized finish convince by a sleek middle part and soft intersections with smart radiuses. Small windage and elevation turrets.
•4A-I-Reticle with red dot has three posts for quick, uncluttered target acquisition.
•Scope of delivery consits of objective and ocular lens covers.
Shop the vast selection of the top firearms manufacturers in our online shop specialized in
accessories and spare parts for hunting and target shooting
.
Choose the most suitable
Steiner
products in the catalog according to your needs.
Free shipping to Italy on orders over €100
. Armeria Brignoli accepts payments by credit card.
For any further questions, please
contact us
.
You might also like it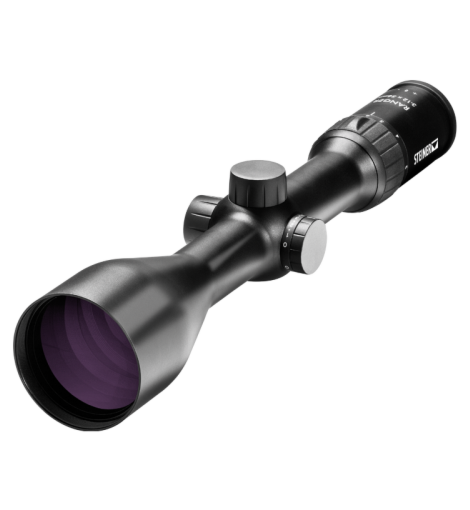 *Purely indicative images
Sku
Description
Price
Special Price
Quantity
Buy
E01011
STEINER RANGER -4-16X56

Special Price

€869.50

€869.50

Regular Price

€1,086.88

Special Price

€869.50

€869.50

Regular Price

€1,086.88

(-20%)

E00806
STEINER RANGER 2,5-10X50

Special Price

€754.10

€754.10

Regular Price

€942.62

Special Price

€754.10

€754.10

Regular Price

€942.62

(-20%)

E01012
STEINER RANGER 3-12x56

Special Price

€797.37

€797.37

Regular Price

€996.71

Special Price

€797.37

€797.37

Regular Price

€996.71

(-20%)

E01014
STEINER RANGER 1-4X24

Special Price

€731.80

€731.80

Regular Price

€914.75

Special Price

€731.80

€731.80

Regular Price

€914.75

(-20%)

E01660
STEINER 3-12X56 BC-BALLISTIC CONTROL

Special Price

€883.94

€883.94

Regular Price

€1,104.92

Special Price

€883.94

€883.94

Regular Price

€1,104.92

(-20%)