Binoculars Helia RF 8X42 Kahles
Kahles Helia RF 8x42 Details
With the 8x42 version of the Helia RF, you are sacrificing a little in terms of the field of view and low light performance compared to the 10x42 model. However, in return, you gain a higher image resolution and therefore more reach. These Kahles binoculars have a tough aluminium chassis and are fully waterproof, they are also filled with dry nitrogen gas to protect the internal optics from fogging. This along with the powerful laser that has a maximum range of 1500 meters and many of their other impressive features make the Kahles Helia RF 8x42 an ideal rangefinding binocular for the hunter who is often out in the open and/or targeting objects at slightly longer distances.
Description of Kahles Helia RF Binoculars
Taking from their wealth of knowledge in ballistics and optics, Kahles have combined the impressive level of optics found on their flagship Helia binoculars with a high-end laser rangefinder to offer the discerning hunter a quality instrument that competes very well in within its price range and gives you the best chance of success on your hunt. These Kahles binoculars come in 8x42 and 10x42 configurations to match your preference of wide angle and superior low light performance versus long-distance observation. Available in a distinctive brown finish, the Kahles Helia RF Binoculars certainly stand out from the competition, but at the same time blend in with nature when out in the field and offer a good level of camouflage.
Important Features
As well as camouflage, the rubber armour exterior ensures a slip-free surface in all weather conditions and protects a tough aluminium chassis underneath. Fully sealed the Helia RF is both waterproof and thanks to the nitrogen filling, is fog proof as well. The integrated laser rangefinder has a range of between 10 and 1500 meters and the heads-up OLED display has five brightness settings for ranging in all light conditions. An intuitive menu navigation enables quick and easy adjustments to settings and modes. Here a standard range can be displayed as well as an angle-compensated measurement that takes ballistics into account. The rangefinder on the Helia RF also has a scan mode that continuously supplies distance information as you pan about and is perfect for moving targets. The Helia RF is powered by an easy to find CR2 battery and is said to provide over 3000 measurements before the need to change.
Optical Properties
A large, centrally located focus wheel allows for accurate single handed focal adjustments, even whilst wearing thick winter gloves and the diopter adjustment ring is positioned in the standard position near the eye-piece and enables you to compensate for any differences in vision between your left and right eyes. The twist-up eyecups have 4 click-stop positions to enable a good level of fine tuning, which in combination with the eye-relief of 18.5mm (8x42) or 16.5mm (10x42) makes these an excellent option for eyeglass wearers. Field of view on both models is more than satisfactory, indeed they compare very well with other leading rangefinder binoculars in the market.
Features of Kahles Helia RF Binoculars
Aluminum Body
Roof Prisms
Rubber Armoring
Multi-positioned Eyecups
Central Focusing
Right-eye diopter
Waterproof and fog-proof (Nitrogen filling)
Accessories of Kahles Helia RF Binoculars
The package is finished off in style with the inclusion of a beautifully handmade wool & felt protective case and real leather neck strap from the prestigious Waldkauz® company. These binoculars are also supplied with objective lens covers and a rainguard.
Handmade Leather-wool Neck Strap
Handmade Case-protection from alpine Loden materials
Objective Lens Covers
Rainguard Lens
Cleaning Cloth
Kahles Helia RF 8x42 Specifications
| | |
| --- | --- |
| Manufacturer | Kahles |
| SKU | 20015 |
| Binoculars series | Kahles Helia RF |
| Prism type  | Roof - Schmidt/Pechan |
| Variable magnification  | No |
| Magnification.  | 8x |
| Lens diameter.  | 42mm |
| Exit pupil.  | 5.3mm |
| Min. eye relief.  | 18.5mm |
| Field of view.  | 125m / 1000m |
| Field of view (deg.)  | 7.1 ° |
| Apparent field of view (deg.)  | 56 ° |
| Close focus.  | 10m |
| Build in rangefinder | Yes |
| Minimal rangefinder value  | 10 m |
| Maximal rangefinder range.  | 1500m |
| Measurement increment  | Meter, Yard |
| Measurement display | Internal display |
| Accuracy  | +/- 0.5 m |
| Inclinometer  | Yes |
| Scan mode  | Yes |
| Target mode  | Yes |
| Ballistic software  | No |
| Measurment time  | 1 s |
| Auto Turn-Off  | Yes |
| Twilight Factor  | 18.3 |
| Relative Brightness  | 27.6 |
| Light transmission  | - |
| Lens coating  | Fully Multicoated |
| Diopter range  | -4 / +4 Dpt |
| Focusing system  | Central |
| Filled with  | Nitrogen |
| Waterproof  | Yes |
| Fogproof  | Yes |
| Shockproof | Yes |
| Floatable  | No |
| Temperature range | -25° / +55° |
| Compass  | No |
| Image stabilizer  | No |
| Color | Brown |
| Length | 148 mm |
| Width | 131 mm |
| Weight | 880 g |
| Weight. | 880g |
| Interpupillary distance  | 58 - 72 mm |
| In production since | 2018 |
| Warranty | 11 years |
| Made in | - |
Shop the vast selection of the top firearms manufacturers in our online shop specialized in
accessories and spare parts for hunting and target shooting
.
Choose the most suitable
Kahles
products in the catalog according to your needs.
Free shipping to Italy on orders over €100
. Armeria Brignoli accepts payments by credit card.
For any further questions, please
contact us
.
You might also like it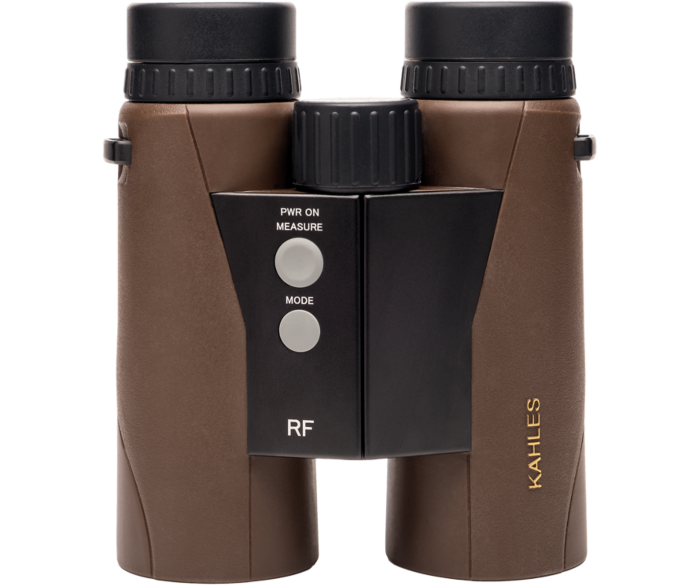 *Purely indicative images