Digital Game Caller MICRO LIT-24TR multisound
Electronic bird caller with 16 or 24 songs equipped with Rechargeable battery, Remote control and Built-in piezo-electric loudspeaker.
Extremely small digital player, easy to use with great autonomy thanks to the internal lithium ion battery.
Electronic Bird caller specific for the small migratory as Thrush, Sky Lark and in general all those songs with medium / high frequencies.
Designed with DSP (Digital Signal Processing) technology + Built-in piezo-electric loudspeaker to reduce echo and background noise that can enhance vocal frequencies to provide clearer and more natural song reproduction.
BUILT-IN PIEZO ELECTRIC LOUDSPEAKER
Small but very powerful! 11 Watts Power with internal power supply, but it can reach up to 13 Watt with the help of 12 Volt external power supply. Piezo electric loudspeaker able to reproduce frequencies above 10,000 Hz. This allows a natural and flawless reproduction of even the most acute songs.
THICKNESS, WEIGHT AND BATTERY
Very thin profile, only 2 cm. Weight 105 g. Internal rechargeable 1,400 mAh battery which offers excellent autonomy. (about 6/7 hours at maximum volume). Fully rechargeable in about 2 hours with its supplied intelligent charger.
Quick top-up to minimize digital player recharge times. With one hour recharge time Microlit is able to recover up to 50-60% of the total battery charge.
15 CHANNELS REMOTE CONTROL
15-channels remote control included to remotely control the song player in all its functions.
Direct access to the Songs
Volume control
Pause/Play
Song mixing
Total block
Coverage 60/80 m
AUDIO SOCKET FOR EXTERNAL SPEAKER
Auxiliary 2.5 mm jack socket, where is possible to connect an external loudspeaker for the recall of birds such as geese and ducks from a great distance.
PACKAGE CONTENTS:
MICRO LIT-24TR PLAYER
REMOTE CONTROLLER
INTELLIGENT BATTERY CHARGER
PLUG CABLE FOR RECHARGING IN MOBILITY
MICRO SD WITH 16 SONGS
INSTRUCTION MANUAL (It / Ing)
CARRYING CASE
TECHNICAL CHARACTERISTICS GAME CALLER:

TECHNICAL CHARACTERISTICS REMOTE CONTROL:

SPEAKER TYPE:

PIEZOELECTRIC

NUMBER OF KEYS

15

NUMBER OF SONGS

16

DIRECT ACCESS TO THE TRACKS

YES

POWER

11/13 Watt with external power supply

PAUSE FUNCTION

YES

EXTERNAL SPEAKER SOCKET

YES

VOLUME ADJUSTMENT

YES

EXTERNAL POWER SUPPLY

YES

SONG MIXING FUNCTION

YES

INDICATION OF BATTERY CHARGING

YES

TOTAL BLOCK

YES

INTELLIGENT BATTERY CHARGE

YES

CAPACITY

120 mt.

AUTONOMY

ABOUT 7 HOURS

POWER SUPPLY

2 BATTERIES 12 VOLT

POWER SUPPLY

RECHARGEABLE LITHIUM ION BATTERY 1400mA

DIMENSIONS (LxLxA)

4x12x1,6 cm

DIMENSIONS (LxLxW)

5.5 x 10 x 2 cm

WEIGHT

69 gr

WEIGHT

100 gr.
Shop the vast selection of the top firearms manufacturers in our online shop specialized in
accessories and spare parts for hunting and target shooting
.
Choose the most suitable
multisound
products in the catalog according to your needs.
Free shipping to Italy on orders over €100
. Armeria Brignoli accepts payments by credit card.
For any further questions, please
contact us
.
You might also like it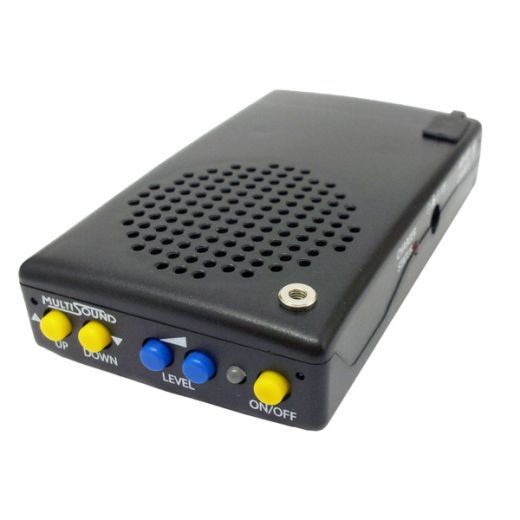 *Purely indicative images
| Sku | Description | Price | Special Price | Quantity | Buy |
| --- | --- | --- | --- | --- | --- |
| PF/AP/AP-04-E24 | DIGITAL PLAYER LIT-24 TR 24 SONGS | | - | | |
| PF/AP/AP-04-E16 | DIGITAL PLAYER - LIT-24 TR 16 SONGS | | - | | |
| PF/CA/CA-13 | CUSTOMIZED MEMORY 8 SONGS | | - | | |
| PF/CA/CA-15 | CUSTOMIZED MEMORY 16 SONGS | | - | | |
| PF/CA/CA-16 | CUSTOMIZED MEMORY 24 SONGS | | - | | |