COLLAR EDUCATION NEWS GENERATION SERIES 5 Canicom
Innovative training collars with distances of 200, 500, 800 or 1,500 meters integrated with audible beep , vibration and stimulation to ensure a perfect education .
KEY FEATURES
• Beep sound of warning to alert the dog.
• Vibration as the first call to the attention of the dog
• Stimulation adjustable from 1 to 10 levels
• Booster button with the level of programming pulse for emergency situations
• Battery level indicator on the remote control and collar
• Collar interchangeable across the range CANICOM 5
No antenna on the collar either , nor on the remote control .
TECHNICAL SPECIFICATIONS OF REMOTE
• Remote control with 1 collar
• Bring 200-500-800-1500
• 10 levels of correction
• Power supply: one 3V lithium battery - CR2450
• Dimensions: 51x106x21 mm
• Weight: 71 gr
TECHNICAL SPECIFICATIONS OF THE COLLAR
• Watertight immersion
• Strap Biothane high-quality , ultra
• Power supply 1 lithium battery 3V - CR2
• Dimensions: 50x70x32 mm
Shop the vast selection of the top firearms manufacturers in our online shop specialized in
accessories and spare parts for hunting and target shooting
.
Choose the most suitable
Canicom
products in the catalog according to your needs.
Free shipping to Italy on orders over €100
. Armeria Brignoli accepts payments by credit card.
For any further questions, please
contact us
.
You might also like it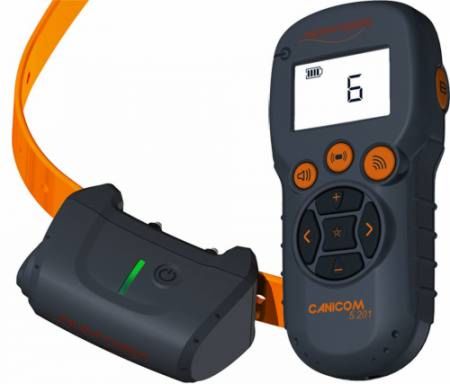 *Purely indicative images
| Sku | Description | Price | Special Price | Quantity | Buy |
| --- | --- | --- | --- | --- | --- |
| CA05A1 | COLLAR WHIT REMOTEC CONTROL 200 METERS | | - | | |
| CA05C1 | COLLAR WHIT REMOTE CONTROL 500 METERS | | - | | |
| CA05C2 | 2 COLLAR WHIT REMOT CONTROL 500 METERS | | - | | |
| CA05D1 | 1 COLLAR WHIT REMOTE CONTROL 800 METERS | | - | | |
| CA05D2 | 2 COLLAR WHIT REMOTE CONTROL 800 METERS | | - | | |
| CA05E1 | 1 COLLAR WHIT REMOTE CONTROL 1500 METERS | | - | | |
| CA05E2 | 2 COLLAR WHIT REMOTE CONTROL 1500 METERS | | - | | |
| CA05E3 | 3 COLLAR WHIT REMOTE CONTROL 1500 METERS | | - | | |
| CA05E4 | 4 COLLAR WHIT COLLAR 1500 METERS | | - | | |
| CR03H | ADDITIONAL SERIES CANICOM 5 | | - | | |
| CR04A1 | TELECOMANDO CANICOM 5-200 | | - | | |
| CR04C2 | TELECOMANDO CANICOM 5-500 | | - | | |
| CR04D2 | TELECOMANDO CANICOM 5-800 | | - | | |
| CR04E4 | REMOTE CONTROL CANICOM 5-1500 | | - | | |
| CR25M | MAGNETIC KEY | | - | | |