COLLAR EDUCATION IKI PULSE multisound
Electronic collar of regulation of the Iki barkings Pulsates of Num' axes with refillable accumulators. Recommended for small and medium dogs.
When your dog barks, it is stopped in its bad behavior by adjustable beep sound and/or stimulations.
> Refillable.
> Seals at immersion.
Reliable and effective
- Guarantee: 2 years.
- Collar seals at immersion.
- Autonomy: 30 days (at a rate of a baiting of 12 hours and 24 releases per day)
Composition of the IKI PULSATES:
- a collar equipped with short electrodes and a refillable battery.
- a charger.
- a magnetic key.
- a set of long electrodes.
- a screwdriver of adjustment.
- a lamp neon test
- an instruction manual.
simple piloting
- Walk/stop and choice of the operating processes thanks to a magnetic key.
- Detection of the barkings by the electrodes (vibrations of the vocal cords)
- Indicating of run down battery by sound beep.
- Adjustment of the sensitivity to the barkings by potentiometer.
- 2 levels of stimulation.
- 3 operating processes: sound beeps stimulations - sound beeps + stimulations.
ergonomy:
- weight: 88g (box+battery).
- Dimensions: 66 X 33 X 35 mm
- operation on refillable battery Nor-MH 3.6 Volts.
- collar adjustment with the neck from 17 to 55 cm.
NB: Products made in France to standards EC.
Shop the vast selection of the top firearms manufacturers in our online shop specialized in
accessories and spare parts for hunting and target shooting
.
Choose the most suitable
multisound
products in the catalog according to your needs.
Free shipping to Italy on orders over €100
. Armeria Brignoli accepts payments by credit card.
For any further questions, please
contact us
.
You might also like it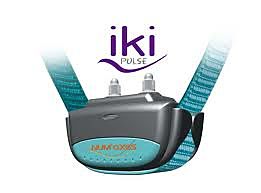 *Purely indicative images